Details
Ref: GW-9400-1ER

Casio Watch.
G-Shock collection.
Solar movement.
Display functions:
Super-Full-Auto-LED light:
If the ambient light fades, a turn of your wrist illuminates the watch display particularly brightly and in coulor.
Shock resistant:
Shock-resistant construction protects against impact and vibration.
Solar Power:
A solar cell provides power for operation.
Radio signal reception (EU, USA, Japan, China):
Whether in Europe, North America and Japan or in the outer reaches of Canada, Central America and China - once the watch has been set to the local time, it receives the relevant signal and shows the correct time wherever you are. In many countries, it also sets itself automatically to summer and winter time.
Barometer (260 / 1.100 hPa):
A special sensor measures the air pressure (measuring range: 260/1100 hPa) and presents this on the display in the form of a symbol. This enables early detection of weather trends.
Thermometer (-10°C / +60°C):
A sensor measures the ambient temperature around the watch and displays it in °C (-10°C /+60°C).
Digital-compass:
A built-in direction sensor detecs the magnetic north.
10,000 m Altimeter:
A pressure sensor detects changes in the air pressure and converts the result into an altitude up to 10,000 m.
Sunrise/sunset display:
After entering the geographical location, sunrise and sunset times can be displayed for any given date.
Altimeter data memory:
Depending on the model, up to 40 sets of elevation data can be stored in the watch's data memory and re-accessed at any time. Each of these data sets consists of a measured altitude as well as the date and time. In addition to the individual altitudes, the maximum and minimum altitudes during a measurement are also stored.
World time function:
Displays the current time in major cities and specific areas around the world.
Stopwatch function - 1/100 sec - 1.000 hours:
Elapsed time, split time and final time are measured with 1/100-sec accuracy. The watch can measure times of up to 1000 hours.
Timer - 1/1 min. - 24 hours:
For fans of precision: the countdown timers help you to remember specific or recurring events by giving off an audible signal at a preset time. The time can be set to the nearest minute and up to 24 hours in advance. Ideal for people who need to take medicines every day or those who do interval training.
5 daily alarms:
The daily alarm reminds you about recurring events with an acoustic signal at the time you have set. You can also activate hourly time signal that indicates each full hour. This model has 5 independent alarms for flexible reminders of important appointments.
Snooze feature:
Each time you stop the alarm, it sounds again after a few minutes.
Button tones on/off:
The button tones for using the mode button can be turned off. This means that the watch no longer beeps when switching from one function to another. Preset alarm or countdown timers remain active when the button tones are deactivated.
Automatic calendar:
Once set, the automatic calendar always displays the correct date.
12/24-hour timekeeping:
Times can be displayed in either a 12-hour or 24-hour format.
Mineral crystal.
Rygid resin case.
Polyurethane bracelet.
W.R. 20 bar = 200 m.
Dimensions of the watch:
Maximum wide approximate: 53 mm.
Maximum length approximate: 55 mm.
Maximum height: 18 mm.
2 year warranty.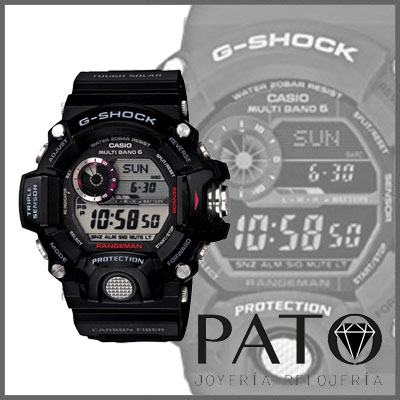 Casio Watches - Casio Watch GW-9400-1ER
Additional Information
| | |
| --- | --- |
| Reference | GW-9400-1ER |
| Model / Item | Watch |
| Sex | Unisex |
| Manufacturer | Casio |
| Reference | GW-9400-1ER |
| Manual | No |
| Machinery | Solar |
| Display | Digital |
| Crystal | Mineral |
| Case Material | Resin |
| Bracelet Material | Resin |
| Colour Sphere ( Primary ) | Black |
| Colour Sphere ( Secondary ) | Red |
| Bracelet Colour | Black |
| W.R. Water Resistant | 20 Bar = 200 m |
| Warranty | Yes |
| Box | Yes |