Details
Ref: LW-202H-8AVES

Casio Watch.
Casio Collection collection.
Digital movement.
Display functions:
EL Backlight:
An electro-luminescent panel causes the entire face to glow for easy reading. Includes an After-Glow feature that keeps the EL backlight turned on for a few seconds after the light button is released..
Stopwatch function (1/100 - 24HR):
Accurate measurement of elapsed time with the touch of a button. The fraction indicates the unit of measurement, while the time figure indicates the maximum time measurement.
Timer - 1/1 min. - 24 hours (with automatic repeat):
For fans of precision: the countdown timers help you to remember specific or recurring events by giving off an audible signal at a preset time. They then count back automatically from the preset time. The time can be set to the nearest minute and up to 24 hours in advance. Ideal for people who need to take medicines every day or those who do interval training.
4 Multi Alarm, Hourly Time Signal:
Multi Alarm lets you set a daily alarm (time setting only), or an alarm for a specific time on a specific day (month, day, and time setting). The value indicates how many multi-alarms are available. The hourly time signal causes the watch to beep every hour on the hour.
Full Auto Calendar:
Allowances are made automatically for months of different lengths, in case date corrections for leap years are required.
12/24-hour timekeeping:
Times can be displayed in either a 12-hour or 24-hour format.
Mineral crystal.
Rygid resin case.
Polyurthane bracelet.
W.R. 5 bar = 50 m.
Dimensions of the watch:
Maximum wide approximate: 38 mm.
Maximum length approximate: 41 mm.
Maximum height: 11 mm.
2 year warranty.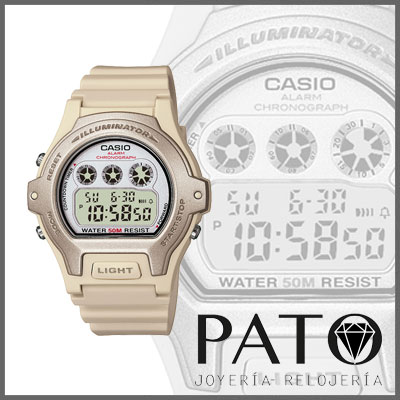 Casio Watches - Casio Watch LW-202H-8AVES
Additional Information
| | |
| --- | --- |
| Reference | LW-202H-8AVES |
| Model / Item | Watch |
| Sex | Unisex |
| Manufacturer | Casio |
| Reference | LW-202H-8AVES |
| Manual | No |
| Machinery | Quartz |
| Display | Digital |
| Crystal | Mineral |
| Case Material | Resin |
| Bracelet Material | Resin |
| Colour Sphere ( Primary ) | Grey |
| Colour Sphere ( Secondary ) | Beige |
| Bracelet Colour | Beige |
| W.R. Water Resistant | 5 Bar = 50 m |
| Warranty | Yes |
| Box | Yes |