18 K Gold Pendant 5432O
5432O
---
€69.55
€81.82
Tax excluded
Have you seen it cheaper?
| 18 k Gold Pendant | Gold Pendant |❤ Mundi Nacar Map ❤| Round shaped pendant of the world map and mother of pearl imitating the sea
Más información
---
Attention! Last unit for sale
In Stock ( Fast Delivery )
FREE SHIPPING
Check conditions
---
Ref: 5432O

18 K Pendant.
Mundi Nacar Map Symbol.
Weight: 1.4 gr.
Dimensions :
Maximum width: 16.00 mm.
Maximum height: 19.00 mm.
Maximum thickness: 1.70 mm.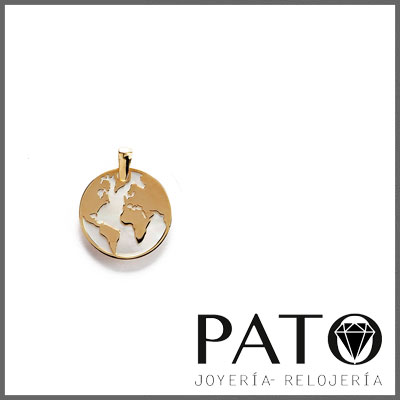 18 k Gold Pendant - Pendant 5432O

Ficha técnica
Model

Necklace

References / Reference Variations

5432O

Color

Yellow, Shell Nacre

Shape

Rare

Metal

18 K Gold

Additional Material

Shell Nacre

Warranty

Yes | 2 Year |

Box / Package

Yes
| | | |
| --- | --- | --- |
| Country / Continent | Amount | Shipping costs |
| SPAIN AND PORTUGAL ( PENÍNSULA ) | Up to 30 Euros | 6 Euros (Vat Included) |
| SPAIN AND PORTUGAL ( PENÍNSULA ) | Above to 30 Euros | Free |
| CANARY ISLANDS CEUTA MELILLA AND BALEARES | Up to 100 Euros | 6 Euros (Vat Included) |
| CANARY ISLANDS CEUTA MELILLA AND BALEARES | Above to 100 Euros | Free |
| EUROPE ( EUROPEAN UNION ) | Up to 100 Euros | 15 Euros (Vat Included) |
| EUROPE ( EUROPEAN UNION ) | From 101 Euros up to 250 Euros | 10 Euros (Vat Included) |
| EUROPE ( EUROPEAN UNION ) | Above to 250 Euros | 6 Euros (Vat Included) |
| EUROPE ( NOT EUROPEAN UNION ) | Up to 100 Euros | 15 Euros (Vat not Included) |
| EUROPE ( NOT EUROPEAN UNION ) | From 101 Euros up to 250 Euros | 10 Euros (Vat not Included) |
| EUROPE ( NOT EUROPEAN UNION ) | Above to 250 Euros | 6 Euros (Vat not Included) |
| AMÉRICA AFRICA ASIA OCEANÍA MADEIRA AND AZORES | Any Amount | 23 Euros (Vat not Included) |
You can see more details by clicking on the following link:
5 other products in the same category: