Details
Ref: 90036748

Polar Watch.
Polar FT7 collection.
Quartz digital movement.
Display functions:
Display text in English, German, Finnish, Swedish, French, Portuguese, Spanish, and Italian.
Hour.
Dual time zone.
Time of day (12/24h) with alarm and snooze.
Date and weekday indicator.
Energy pointer (Gives you clear guidance on how to get into shape faster).
Smart Calories (Lets you know exactly how many calories you've burned).
Training Load (Helps you find the perfect balance between rest and training).
Polar OwnCode® (5kHz)coded transmission:
Coded heart rate transmission automatically locks in a code to transmit your heart rate to the training computer. The training computer picks up your heart rate from your transmitter only. Coding prevents interference from other training computers.
Polar OwnCal® – calorie expenditure:
Polar OwnCal calculates the number of kilocalories expended during training. This feature allows you to follow the kilocalories expended during one training session and cumulative kilocalories expended during several training sessions. Some Polar products also estimate the fat-burning percentage (fat% on display), that is, kilocalories expended from fat during a workout which is expressed as a percentage of the total kilocalories burned.
Softaware Compatibility polarpersonaltrainer.com found through Polar FlowLink (Optional).
Training files (with summaries) 99.
Low battery indicator.
Wearlink included.
Button Lock.
Mineral crystal.
Polyurethane case.
Polyurethane bracelet.
W.R. 3 bar = 30 m.
Dimensions of the watch:
Maximum wide approximate: 39 mm.
Maximum length approximate: 31 mm.
Maximum height: 13 mm.
2 year warranty.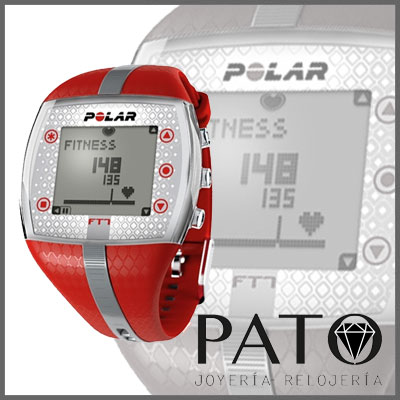 Polar Watches - Polar Watch 90036748
Additional Information
| | |
| --- | --- |
| Reference | 90036748 |
| Model / Item | Watch |
| Sex | Unisex |
| Manufacturer | Polar |
| Reference | 90036748 |
| Manual | No |
| Machinery | Quartz |
| Display | Digital |
| Crystal | Mineral |
| Case Material | Resin |
| Bracelet Material | Resin |
| Colour Sphere ( Primary ) | Red |
| Colour Sphere ( Secondary ) | Grey |
| Bracelet Colour | Red |
| W.R. Water Resistant | 3 Bar = 30 m |
| Warranty | Yes |
| Box | Yes |