Pendentif Rebecca XLBKSS20
Have you seen it cheaper?
Bracelet Rebecca XLBKSS20 | Rebecca Bijoux
See description
---
En Stock Livraison Rapide
LIVRAISON GRATUITE
VÉRIFIER LES CONDITIONS
---
By buying this product you can collect up to 6 loyalty points . Your cart will contain total 6 points that can be converted into a voucher of 1,20 €
Ref: XLBKSS20


Pendentif Rebecca.
Matériau acier et Pierres (Émeraude).
Longueur de 45 cm.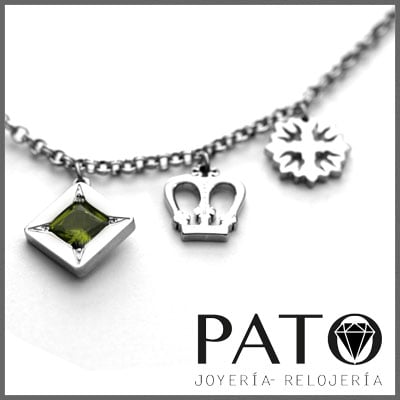 Pendentifs Rebecca - Pendentif Rebecca XLBKSS20

SPAIN & PORTUGAL ( ONLY IBERIAN PENINSULA )
Shipping mode by courier SEUR 24-48 hours
AMOUNT Up to 40 Euros
5.99 €
AMOUNT Over 40 Euros
Free shipping

ISLAS BALEARES
You can select between SEUR & CORREOS
COURIER SEUR 48-72 HOURS
Any Amount
15.00 €
COURIER CORREOS 3-4 DAYS
Any Amount
5.99 €
ISLAS CANARIAS, CEUTA & MELILLA
We can only ship via CORREOS

COURIER CORREOS 5-7 DAYS
Any Amount
6.00 €
ANDORRA Y GIBRALTAR
You can select between DHL & CORREOS
COURIER DHL 2-3 DAYS
Any Amount
28.50 €
COURIER CORREOS 5-7 DAYS
VARIES BY PRODUCT
6.00 €
PORTUGAL ( MADEIRA Y AZORES )
You can select between DHL & CORREOS
COURIER DHL 2-3 DAYS
Any Amount
39.00 €
COURIER CORREOS 4-6 DAYS
VARIES BY PRODUCT
18.10 €
EUROPE ( EUROPEAN UNION ) COUNTRIES 1
International SEUR intra-community shipping: Approximate period of 3-7 working days depending on the country of destination
EXEMPT FROM ANY ADDITIONAL CUSTOMS EXPENSES
AMOUNT Up to 100 Euros
15.00 €
AMOUNT From 101 Euros to 250 Euros
10.00 €
AMOUNT 251 Euros and above
6.00 €
Countries included
| Germany | Austria | Belgium | Bulgaria | Cyprus | Croatia | Denmark | Slovakia | Slovenia | Estonia | Finland | France | Greece | Hungary | Italy | Latvia | Liechtenstein | Lithuania | Luxembourg | Malt | Netherlands | Romania | Sweden |
EUROPE ( EUROPEAN UNION ) COUNTRIES 2
You can select between SEUR & CORREOS
EXEMPT FROM ANY ADDITIONAL CUSTOMS EXPENSES
SEUR 2-3 approximate days
Any Amount
18.00 €
CORREOS 4-6 approximate days
VARIES BY PRODUCT
Maximum of 12.00 €
Countries included
| Poland | Czech Republic |
EUROPE ( NON EUROPEAN UNION ) COUNTRIES 1
You can select between DHL & CORREOS
PROBABILITY OF GENERATING ADDITIONAL CUSTOMS EXPENSES
By selecting CORREOS the probability of CUSTOMS EXPENSES decreases
DHL 2-3 approximate days
Any Amount
57.00 €
CORREOS 10-16 approximate days
VARIES BY PRODUCT
Maximum of 18.10 €
Countries included
| Belarus | Vatican City | Greenland | Monaco | Norway | San Marino | Svalbard and Jan Mayen |
EUROPE ( NON EUROPEAN UNION ) COUNTRIES 2
You can select between DHL & CORREOS
PROBABILITY OF GENERATING ADDITIONAL CUSTOMS EXPENSES
By selecting CORREOS the probability of CUSTOMS EXPENSES decreases
DHL 2-3 approximate days
Any Amount
33.00 €
CORREOS 10-16 approximate days
VARIES BY PRODUCT
Maximum of 26.45 €
Countries included
| Albania | Armenia | Bosnia and Herzegovina | Macedonia | Moldova | Serbia |
SWITZERLAND
You can select between DHL & CORREOS
PROBABILITY OF GENERATING ADDITIONAL CUSTOMS EXPENSES
By selecting CORREOS the probability of CUSTOMS EXPENSES decreases
DHL 2-3 approximate days
Any Amount
39.00 €
CORREOS 6-10 approximate days
VARIES BY PRODUCT
Maximum of 12.00 €
UNITED KINGDOM ( IRELAND & NORTHERN IRELAND )
You can select between UPS & CORREOS
EXEMPT FROM ANY ADDITIONAL CUSTOMS EXPENSES

UPS 2-3 approximate days
Any Amount
18.00 €
CORREOS 6-10 approximate days
VARIES BY PRODUCT
Maximum of 12.00 €
UNITED KINGDOM
You can select between UPS & CORREOS
PROBABILITY OF GENERATING ADDITIONAL CUSTOMS EXPENSES
By selecting CORREOS the probability of CUSTOMS EXPENSES decreases
UPS 2-3 approximate days
Any Amount
25.00 €
CORREOS 6-10 approximate days
VARIES BY PRODUCT
Maximum of 9.00 €
ISRAEL & EGIPTO
You can select between DHL & CORREOS
PROBABILITY OF GENERATING ADDITIONAL CUSTOMS EXPENSES
By selecting CORREOS the probability of CUSTOMS EXPENSES decreases
ISRAEL DHL 2-3 approximate days
Any Amount
33.25 €
ISRAEL CORREOS 5-9 approximate days
VARIES BY PRODUCT
Maximum of 12.00 €
EGIPTO DHL 2-3 approximate days
Any Amount
40.00 €
EGIPTO CORREOS 7-14 approximate days
VARIES BY PRODUCT
Maximum of 33.00 €
UNITED STATES OF AMÉRICA ( USA )

You can select between DHL & CORREOS
PROBABILITY OF GENERATING ADDITIONAL CUSTOMS EXPENSES
By selecting CORREOS the probability of CUSTOMS EXPENSES decreases
DHL 2-3 approximate days
Any Amount
39.00 €
CORREOS 6-10 approximate days
VARIES BY PRODUCT
Maximum of 23.00 €
ARGENTINA & CHILE
You can select between DHL & CORREOS
PROBABILITY OF GENERATING ADDITIONAL CUSTOMS EXPENSES
By selecting CORREOS the probability of CUSTOMS EXPENSES decreases
DHL 2-3 approximate days
Any Amount
39.00 €
CORREOS 6-10 approximate days
VARIES BY PRODUCT
Maximum of 26.00 €
COLOMBIA & ECUADOR
You can select between DHL & CORREOS
PROBABILITY OF GENERATING ADDITIONAL CUSTOMS EXPENSES
By selecting CORREOS the probability of CUSTOMS EXPENSES decreases
COLOMBIA DHL 2-3 approximate days
Any Amount
39.00 €
COLOMBIA CORREOS 12-18 approximate days
VARIES BY PRODUCT
Maximum of 21.00 €
ECUADOR DHL 2-3 approximate days
Any Amount
40.00 €
ECUADOR CORREOS 8-12 approximate days
VARIES BY PRODUCT
Maximum of 27.00 €
BRASIL
You can select between DHL & CORREOS
PROBABILITY OF GENERATING ADDITIONAL CUSTOMS EXPENSES
By selecting CORREOS the probability of CUSTOMS EXPENSES decreases
DHL 2-3 approximate days
Any Amount
39.00 €
CORREOS 8-15 approximate days
VARIES BY PRODUCT
Maximum of 26.00 €
CANADA
You can select between DHL & CORREOS
PROBABILITY OF GENERATING ADDITIONAL CUSTOMS EXPENSES
By selecting CORREOS the probability of CUSTOMS EXPENSES decreases
DHL 2-3 approximate days
Any Amount
39.00 €
CORREOS 8-12 approximate days
VARIES BY PRODUCT
Maximum of 19.00 €
MEXICO
You can select between DHL & CORREOS
PROBABILITY OF GENERATING ADDITIONAL CUSTOMS EXPENSES
By selecting CORREOS the probability of CUSTOMS EXPENSES decreases
DHL 2-3 approximate days
Any Amount
39.00 €
CORREOS 9-14 approximate days
VARIES BY PRODUCT
Maximum of 26.00 €
OTHER COUNTRIES AMERICA ( ZONE 1 )
You can select between DHL & CORREOS
PROBABILITY OF GENERATING ADDITIONAL CUSTOMS EXPENSES
By selecting CORREOS the probability of CUSTOMS EXPENSES decreases
DHL 2-3 approximate days
Any Amount
40.00 €
CORREOS 6-10 approximate days
VARIES BY PRODUCT
Maximum of 33.00 €
Countries included
| Costa Rica | Paraguay | Peru | Dominican Republic | Uruguay | Antigua and Barbuda | Panama |
OTHER COUNTRIES AMERICA ( ZONE 2 )
You can only choose DHL
PROBABILITY OF GENERATING ADDITIONAL CUSTOMS EXPENSES
DHL 2-3 approximate days
Any Amount
57.00 €
Countries included
| Anguila | Aruba | Bahamas | Barbados | Belize | Bermuda | Bolivian | Cayman Islands | Cook Islands | Dominican | El Salvador | Fiji | French Guyana | Grenada | Guadeloupe | Guatemala | Guyana | Honduras | Falkland Islands | Turks and Caicos Islands | Virgin Islands (British) | Jamaica | Kiribati | Martinique | Micronesia | Montserrat | Nicaragua | Papua New Guinea | French Polynesia | Saint Kitts and Nevis | Solomon Islands | Samoa | Saint Pierre and Miquelon | Saint Vincent and the Grenadines | Saint Lucia | Suriname | Tonga | Trinidad and Tobago | Tuvalu | Vanuatu | Venezuela |
AUSTRALIA
You can select between DHL & CORREOS
PROBABILITY OF GENERATING ADDITIONAL CUSTOMS EXPENSES
By selecting CORREOS the probability of CUSTOMS EXPENSES decreases
DHL 2-3 approximate days
Any Amount
40.00 €
CORREOS 9-12 approximate days
VARIES BY PRODUCT
Maximum of 28.00 €
NEW ZEALAND
You can select between DHL & CORREOS
PROBABILITY OF GENERATING ADDITIONAL CUSTOMS EXPENSES
By selecting CORREOS the probability of CUSTOMS EXPENSES decreases
DHL 2-3 approximate days
Any Amount
40.00 €
CORREOS 7-16 approximate days
VARIES BY PRODUCT
Maximum of 29.00 €
OTHER COUNTRIES MIXED (SEE COUNTRIES INCLUDED)
You can select between DHL & CORREOS
PROBABILITY OF GENERATING ADDITIONAL CUSTOMS EXPENSES
By selecting CORREOS the probability of CUSTOMS EXPENSES decreases
DHL 2-3 approximate days
Any Amount
40.00 €
CORREOS 6-10 approximate days
VARIES BY PRODUCT
Maximum of 27.00 €
Countries included
| Algeria | Iceland | Faroe Islands | Morocco | Montenegro | Tunisia |
AFRICA & MALI
You can select between DHL & CORREOS
PROBABILITY OF GENERATING ADDITIONAL CUSTOMS EXPENSES
By selecting CORREOS the probability of CUSTOMS EXPENSES decreases
AFRICA DHL 2-3 approximate days
Any Amount
57.00 €
AFRICA CORREOS 7-14 approximate days
VARIES BY PRODUCT
Maximum of 33.00 €
MALI DHL 2-3 approximate days
Any Amount
84.00 €
MALI CORREOS 7-14 approximate days
VARIES BY PRODUCT
Maximum of 33.00 €
Countries Africa included
| Angola | Benin | Botswana | Burkina Faso | Burundi | Cape Verde | Cameroon | Chad | Congo, Rep. They | Congo, Republic | Ivory Coast | Djibouti | Eritrea | Ethiopia | Gabon | Guinea | Kenya | Lesotho | Madagascar | Malawi | Mozambique | Namibia | Niger | Nigeria | Rwanda | Senegal | South Africa | Tanzania | Togo | Uganda | Zambia | Zimbabwe |
JAPAN
You can select between DHL & CORREOS
PROBABILITY OF GENERATING ADDITIONAL CUSTOMS EXPENSES
By selecting CORREOS the probability of CUSTOMS EXPENSES decreases
DHL 2-3 approximate days
Any Amount
40.00 €
CORREOS 10-14 approximate days
VARIES BY PRODUCT
Maximum of 20.00 €
CHINA
You can select between DHL & CORREOS
PROBABILITY OF GENERATING ADDITIONAL CUSTOMS EXPENSES
By selecting CORREOS the probability of CUSTOMS EXPENSES decreases
DHL 2-3 approximate days
Any Amount
40.00 €
CORREOS 12-18 approximate days
VARIES BY PRODUCT
Maximum of 12.50 €
HONG KONG & ARAB EMIRATES

You can select between DHL & CORREOS
PROBABILITY OF GENERATING ADDITIONAL CUSTOMS EXPENSES
By selecting CORREOS the probability of CUSTOMS EXPENSES decreases
HONG KONG DHL 2-3 approximate days
Any Amount
40.00 €
HONG KONG CORREOS 10-14 approximate days
VARIES BY PRODUCT
Maximum of 22.00 €
ARAB EMIRATES DHL 2-3 approximate days
Any Amount
40.00 €
ARAB EMIRATES CORREOS 8-14 approximate days
VARIES BY PRODUCT
Maximum of 25.00 €
ASIA ( ZONE 1 )
You can select between DHL & CORREOS
PROBABILITY OF GENERATING ADDITIONAL CUSTOMS EXPENSES
By selecting CORREOS the probability of CUSTOMS EXPENSES decreases
DHL 2-3 approximate days
Any Amount
40.00 €
CORREOS 8-16 approximate days
VARIES BY PRODUCT
Maximum of 29.00 €
Countries included
| Saudi Arabia | Bahrain | South Korea | Philippines | India | Indonesia | Jordan | Kuwait | Malaysia | Maldives | Oman | Qatar | Singapore | Sri Lankan | Thailand | Taiwan | Viet Nam |
ASIA ( ZONE 2 )
You can select between DHL & CORREOS
PROBABILITY OF GENERATING ADDITIONAL CUSTOMS EXPENSES
By selecting CORREOS the probability of CUSTOMS EXPENSES decreases

DHL 2-3 approximate days
Any Amount
57.00 €
CORREOS 6-10 approximate days
VARIES BY PRODUCT
Maximum of 29.00 €
Countries included
| Georgia | Tayikistán |
UKRAINE
You can only choose DHL
PROBABILITY OF GENERATING ADDITIONAL CUSTOMS EXPENSES

DHL 2-3 approximate days
Any Amount
60.00 €
COUNTRIES NOT ALLOWED
| Afghanistan | Antarctica | Netherlands Antilles | Bangladeshi | Burma (Myanmar) | British Indian Ocean Territory | Cocos (Keeling), Islands | Cuba | South Georgia and the South Sandwich Islands | Ghanaian | Guam | Guernsey | Equatorial Guinea | Haiti | Iran | Iraqi | Bouvet Island | Aland Islands | Heard Islands and McDonald Islands | Northern Mariana Islands | Virgin Islands (US) | Jumper | Kyrgyzstan | KOREA, DEM. Republic of | Lebanon | Liberia | Libya | Macau | Man, Island | Mauritania | Christmas, Island of | Norfolk Island | Pakistan | Pitcairn | Puerto Rico | Central African Republic | Russia | Western Sahara | Saint Martin | American Samoa | Saint Bartholomew | Syria | Sudan | Southern Territories French | Palestinian Territories | East Timor | Tokelauan | Turkey | Uzbekistan | Wallis and Futuna | Yemeni |
10 autres produits dans la même catégorie :