Citizen Eco-Drive Radio Controlled H804 Watch AT8110-61E
AT8110-61E
---
€307.69
€361.98
Tax excluded
Have you seen it cheaper?
Citizen Collection Eco-Drive Radio Controlled H804 / AT8110-61E.
| | |
| --- | --- |
| · Diameter without Crown | 43 mm |
| · Thickness | 11 mm |
| · Warranty | 2 years warranty. |
| · Brand | Citizen |
Más información
---
Discontinued Product
Ref: AT8110-61E

Citizen Watch.
Eco-Drive Radio Controlled H804 collection.
Eco-Drive movement (Ecological with load of infinite light) with no need of change of battery.
Radio-controlled watch (Function of Automatic Synchronization).
Wave Receive avaliable to USA, Germany, Japan and China.
Wave Receive Indicator State.
Reserve of load up to 2 Years.
Power Save Function.
3 Inner Subdials.
World time up to 26 countries and UTC Time.
Summer Time Function.
Cronograph Function to 1/20 sec.
Format 12/24 h.
Perpetual Calendar up to 28/02/2100.
Window Display of date.
Includes Antenna Wave Receiver.
Sapphire Glass.
Stainless steel case.
Stainless steel Bracelet.
W.R. 10 bar = 100 m.
2 year warranty.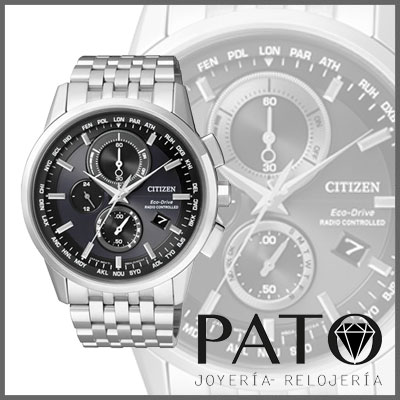 Descripciones detalladas
Display: Analog
Common indicator that most watches have. Usually 3 needles and in many other cases 2 needles. Other models also have certain needles for chronograph functions and others
Movement: Eco-Drive
Eco-Drive is a power technology of Citizen watches. The solar cells, which are under the crystal, convert light energy into electrical energy, which is stored in the battery and powers the watch. This eliminates the need for battery replacement!
Case Material: Steel
Stainless steel 316L (Stainless Steel) is a very durable material that theoretically can not be destroyed. It is hard (non-bendable and non-crackable), color stable, antiallergic (does not react with body fluids and therefore no metal components are not released into the skin and flesh) and has anticorrosive surface (the surface is resistant to oxidation and corrosion. Moreover, it is also resistant to fresh and salt water)
Strap: Steel
Stainless steel 316L (Stainless Steel) is a very durable material that theoretically can not be destroyed. It is hard (non-bendable and non-crackable), color stable, antiallergic (does not react with body fluids and therefore no metal components are not released into the skin and flesh) and has anticorrosive surface (the surface is resistant to oxidation and corrosion. Moreover, it is also resistant to fresh and salt water)
Glass: Sapphire
Sapphire glass in the watch was made in a laboratory by melting aluminium oxide (Al2O3) in the presence of hydrogen and oxygen at 2000 °C. After crystallisation into the corundum 'pear', it's cut and further processed into the desired shape and size. Sapphire glass is the hardest glass used in watches. It would be second behind diamond on the scale of mineral hardness, so it can only scratched by diamond. Its only disadvantage is its fragility
| | | |
| --- | --- | --- |
| Country / Continent | Amount | Shipping costs |
| SPAIN AND PORTUGAL ( PENÍNSULA ) | Up to 30 Euros | 6 Euros (Vat Included) |
| SPAIN AND PORTUGAL ( PENÍNSULA ) | Above to 30 Euros | Free |
| CANARY ISLANDS CEUTA MELILLA AND BALEARES | Up to 100 Euros | 6 Euros (Vat Included) |
| CANARY ISLANDS CEUTA MELILLA AND BALEARES | Above to 100 Euros | Free |
| EUROPE ( EUROPEAN UNION ) | Up to 100 Euros | 15 Euros (Vat Included) |
| EUROPE ( EUROPEAN UNION ) | From 101 Euros up to 250 Euros | 10 Euros (Vat Included) |
| EUROPE ( EUROPEAN UNION ) | Above to 250 Euros | 6 Euros (Vat Included) |
| EUROPE ( NOT EUROPEAN UNION ) | Up to 100 Euros | 15 Euros (Vat not Included) |
| EUROPE ( NOT EUROPEAN UNION ) | From 101 Euros up to 250 Euros | 10 Euros (Vat not Included) |
| EUROPE ( NOT EUROPEAN UNION ) | Above to 250 Euros | 6 Euros (Vat not Included) |
| AMÉRICA AFRICA ASIA OCEANÍA MADEIRA AND AZORES | Any Amount | 23 Euros (Vat not Included) |
You can see more details by clicking on the following link:
5 other products in the same category: