Timex T59201 Watch
T59201
---
Have you seen it cheaper?
| T59201 | Timex Watch T59201 | Sport Timex Watch with Purple Color and Indiglo Ligth Function | Timex Watches | Sport Dial and Water Resistant to 200 meters
| | |
| --- | --- |
| · Diameter without Crown | |
| · Thickness | |
| · Warranty | 2 years warranty. |
| · Brand | Timex |
Más información
---
Attention! Last unit for sale
In Stock ( Fast Delivery )
FREE SHIPPING
Check conditions
---
Ref: T59201

Timex Watch.
Collection Ironman.
Quartz Digital movement.
Function:
Format 12/24 hours.
Date.
Two time zones
Countdown.
Daily alarm / business days / weekends.
Chronograph with record of turns / fraction. 50 lap.
INDIGLO nigth-ligth with Night-Mode feature.
Synthetic Rubber case.
Synthetic Rubber Strap.
Mineral Glass.
W.R. 10 bar = 100 m.
2 years warranty.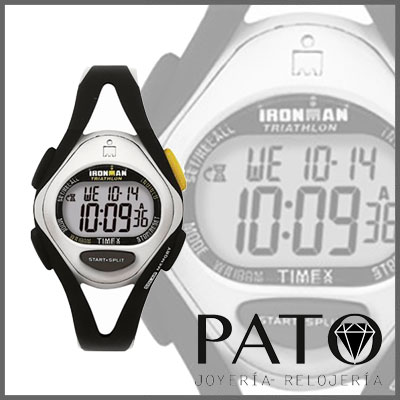 Timex Watches - Timex Watch T59201

Basic features

Model
Watch
Reference
Style
Digital, Sport
Shape Watch
Oval
Gender
Woman
Warranty
Yes | 2 Year | Oficial Presentation Box
Box / Package
Yes Oficial Presentation Box

Specific functions

Display
Digital
Functions (List)
View Description
Movement
Quartz
W.R.
10 Bar

Other features

Case Material
Resin
Strap
Resin
Glass
Mineral
Dial Color
Grey, Black
Bracelet Color
Black
Diameter without Crown
Thickness
Descripciones detalladas
Warranty: Yes | 2 Year | Oficial Presentation Box
All our products include the Official Guarantee of the Brand itself, signed and sealed. The products distributed include the Official Brand Warranty of 2 years respectively
Display: Digital
A digital watch represents the time on a digital display in decimal numbering, presenting the time of day in the form: HH: MM, or HH: MM: SS, depending on whether the clock has a second hand or not
Movement: Quartz
The most common mechanism among all watches. The mechanism of this watch is powered by battery power
W.R.: 10 Bar
Watches marked with water tightness 100M/10ATM are designed for swimming and snorkeling and free diving without breathing apparatus. 100M/10ATM indicates the degree of water resistance standardized by ISO 6425. ISO tests include temperature changes, depth, pressure (water and air) for different times under the rest and during manipulation with the operative part of the watch
Case Material: Resin
Mostly of rubber, resins or silicone. This type of material has high flexibility, is hypoallergenic, water resistant, and does not absorb sweat.
Strap: Resin
Mostly of rubber, resins or silicone. This type of material has high flexibility, is hypoallergenic, water resistant, and does not absorb sweat
Glass: Mineral
Currently the most widespread type of watch glass. It is very hard and has a high silicon content making it highly resistant to scratches and impacts. However, it does not mean that it is completely scratch resistant
| | | |
| --- | --- | --- |
| Country / Continent | Amount | Shipping costs |
| SPAIN AND PORTUGAL ( PENÍNSULA ) | Up to 30 Euros | 6 Euros (Vat Included) |
| SPAIN AND PORTUGAL ( PENÍNSULA ) | Above to 30 Euros | Free |
| CANARY ISLANDS CEUTA MELILLA AND BALEARES | Up to 100 Euros | 6 Euros (Vat Included) |
| CANARY ISLANDS CEUTA MELILLA AND BALEARES | Above to 100 Euros | Free |
| EUROPE ( EUROPEAN UNION ) | Up to 100 Euros | 15 Euros (Vat Included) |
| EUROPE ( EUROPEAN UNION ) | From 101 Euros up to 250 Euros | 10 Euros (Vat Included) |
| EUROPE ( EUROPEAN UNION ) | Above to 250 Euros | 6 Euros (Vat Included) |
| EUROPE ( NOT EUROPEAN UNION ) | Up to 100 Euros | 15 Euros (Vat not Included) |
| EUROPE ( NOT EUROPEAN UNION ) | From 101 Euros up to 250 Euros | 10 Euros (Vat not Included) |
| EUROPE ( NOT EUROPEAN UNION ) | Above to 250 Euros | 6 Euros (Vat not Included) |
| AMÉRICA AFRICA ASIA OCEANÍA MADEIRA AND AZORES | Any Amount | 23 Euros (Vat not Included) |
You can see more details by clicking on the following link:
5 other products in the same category: