#NOTICE# Shipments could be delayed due to the current alarm situation. +info: info@joyeriapato.com or whatsapp 692201182
Casio AE-1200WH-1CVEF Watch COLLECTION WORLD MAP
AE-1200WH-1CVEF
---
€23.88
€28.10
Tax excluded
Have you seen it cheaper?
| AE-1200WH-1CVEF | Casio Watch |⌚ AE-1200WH-1CVEF ⌚| Collection CASIO COLLECTION WORLD MAP | Casio Watch with Resin Strap and among its functions highlights the time selection through the selection map
| | |
| --- | --- |
| · Diameter without Crown | 42.10 mm |
| · Thickness | 12.50 mm |
| · Warranty | 2 years warranty. |
| · Brand | Casio |
Más información
---
In Stock ( Fast Delivery )
---
Ref: AE-1200WH-1CVEF 

Casio Watch.
CASIO COLLECTION WORLD MAP collection.
Digital quartz machinery.
Display functions:
Led light
A light-emitting diode (LED) is used to illuminate the watch face.
Universal time function
The World Time function shows the current time in up to 29 different time zones.
Stopwatch - 1/100 sec - 24 hours
Accurate measurement of elapsed time with the touch of a button. The fraction indicates the unit of measurement, while the time figures indicate the maximum measurements of time.
Timers - 1/10 second - 24 hours
For all those who demand precision: the countdown timers are very useful when remembering special or periodic events, since they emit an acoustic signal at the programmed moment. They can be configured by seconds or even with the time in advance.
5 daily alarms
The daily alarm will remind you of appointments that are repeated daily by an acoustic signal that sounds at the set time. This model is equipped with 5 independent alarms that remind you of your important appointments.
Automatic calendar
Once set, the automatic calendar always shows the correct date.
Timekeeping indication 12/24 hours
The hours are displayed in either the 12 or 24 hour format.
Acryl crystal.
Rygid Resin case.
Resin Strap.
W.R. 10 bar = 100 m.
2 year warranty.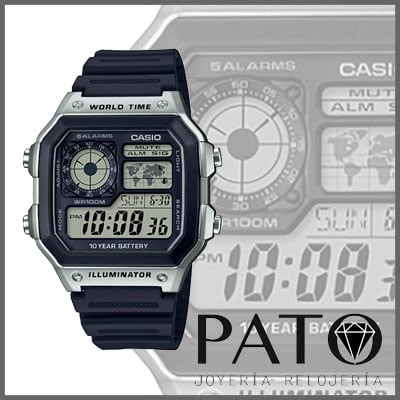 Casio Watches - Casio Watch AE-1200WH-1CVEF 

Ficha técnica
| | |
| --- | --- |
| Model | Watch |
| References / Reference Variations | AE-1200WH-1CVEF |
| Style | Digital |
| Shape Watch | Rounded |
| Gender | Man |
| Collection | CASIO COLLECTION WORLD MAP |
| Display | Digital |
| Functions (List) | Timer, 12/24 Hour, Ligth, Chronograph, Day, Date, Month, Year, Alarm |
| Movement | Quartz |
| Case Material | Resin |
| Strap | Resin |
| Glass | Mineral |
| W.R. | 10 Bar |
| Dial Color | Black, Grey |
| Bracelet Color | Black |
| Diameter without Crown | 42.10 mm |
| Thickness | 12.50 mm |
| Warranty | Yes | 2 Year | Oficial Presentation Box |
| Box / Package | Yes Oficial Presentation Box |
| | | |
| --- | --- | --- |
| Country / Continent | Amount | Shipping costs |
| SPAIN AND PORTUGAL ( PENÍNSULA ) | Up to 30 Euros | 6 Euros (Vat Included) |
| SPAIN AND PORTUGAL ( PENÍNSULA ) | Above to 30 Euros | Free |
| CANARY ISLANDS CEUTA MELILLA AND BALEARES | Up to 100 Euros | 6 Euros (Vat Included) |
| CANARY ISLANDS CEUTA MELILLA AND BALEARES | Above to 100 Euros | Free |
| EUROPE ( EUROPEAN UNION ) | Up to 100 Euros | 15 Euros (Vat Included) |
| EUROPE ( EUROPEAN UNION ) | From 101 Euros up to 250 Euros | 10 Euros (Vat Included) |
| EUROPE ( EUROPEAN UNION ) | Above to 250 Euros | 6 Euros (Vat Included) |
| EUROPE ( NOT EUROPEAN UNION ) | Up to 100 Euros | 15 Euros (Vat not Included) |
| EUROPE ( NOT EUROPEAN UNION ) | From 101 Euros up to 250 Euros | 10 Euros (Vat not Included) |
| EUROPE ( NOT EUROPEAN UNION ) | Above to 250 Euros | 6 Euros (Vat not Included) |
| AMÉRICA AFRICA ASIA OCEANÍA MADEIRA AND AZORES | Any Amount | 23 Euros (Vat not Included) |
You can see more details by clicking on the following link:
5 other products in the same category: