Casio A168WEC-3EF Watch Collection CAMOUFLAGE
A168WEC-3EF
---
€32.23
€32.24
-€0.01
Tax excluded
Have you seen it cheaper?
| A168WEC-3EF | Casio Watch |⌚ A168WEC-3EF ⌚| Collection Casio Collection | Casio Watch with Steel Strap Classic functions Alarms and Stopwatch | Casio Green Military Style Watch
| | |
| --- | --- |
| · Diameter without Crown | 37 mm |
| · Thickness | 10 mm |
| · Warranty | 2 years warranty. |
| · Brand | Casio |
Más información
---
In Stock ( Fast Delivery )
FREE SHIPPING
Check conditions
---
*SEE CONDITIONS
Apply coupon: BEINGCUSTOMER
Ref: A168WEC-3EF

Casio Watch.
Casio Collection CAMOUFLAGE collection.
Digital quartz machinery.
Display functions:
Screen lighting
A built-in light illuminates the watch face from the side.
Stopwatch - 1/100 sec - 1 hour
The elapsed time, the partial times and the final time are measured to the nearest hundredths of a second. The watch can measure times of up to an hour.
Daily alarm
The daily alarm emits an acoustic signal at the scheduled time to remember those events that are repeated daily.
Automatic calendar
Once set, the automatic calendar always shows the correct date.
Timekeeping indication 12/24 hours
The hours are displayed in either the 12 or 24 hour format.
Glass Acrylic Glass.
Rigid resin box.
Steel bracelet
W.R. 1 bar = 10 m.
W.R. 10 bar = 100 m.
2 year warranty.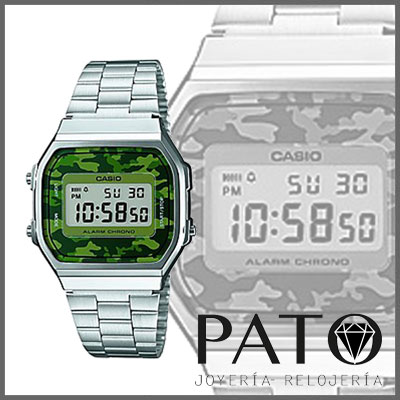 Casio Watches - Casio Watch A168WEC-3EF

Basic features

Model
Watch
Reference
A168WEC-3EF
Style
Military, Digital, Retro
Shape Watch
Square
Gender
Woman, Man, Unisex
Collection
COLLECTION CAMOUFLAGE
Warranty
Yes | 2 Year | Oficial Presentation Box
Box / Package
Yes Oficial Presentation Box

Specific functions

Display
Digital
Functions (List)
Alarm, 12/24 Hour, Ligth, Chronograph, Day, Date
Movement
Quartz
W.R.
1 Bar

Other features

Case Material
Resin
Strap
Steel
Glass
Mineral
Dial Color
Green
Bracelet Color
Grey
Diameter without Crown
37 mm
Thickness
10 mm
Descripciones detalladas
Warranty: Yes | 2 Year | Oficial Presentation Box
All our products include the Official Guarantee of the Brand itself, signed and sealed. The products distributed include the Official Brand Warranty of 2 years respectively
Display: Digital
A digital watch represents the time on a digital display in decimal numbering, presenting the time of day in the form: HH: MM, or HH: MM: SS, depending on whether the clock has a second hand or not
Functions (List): Alarm, 12/24 Hour, Ligth, Chronograph, Day, Date
One of the most typical functions of a digital watch is the alarm that can be set at different times. When this is activated, the alarm sounds.. A choice of two ways to display time in 12 or 24 hour format. For example, 3:45 or 15:45. It is used to graphically record the time elapsed during a certain interval. It has start, stop and reset buttons. Arrangement on the display of a section or window to show the current day of the month period from 1 to 31. Displays the current day of the week. Abbreviations days are in English or Spanish (in rare cases a day of the week can be in German or in another language)
Movement: Quartz
The most common mechanism among all watches. The mechanism of this watch is powered by battery power
Case Material: Resin
Mostly of rubber, resins or silicone. This type of material has high flexibility, is hypoallergenic, water resistant, and does not absorb sweat.
Strap: Steel
Stainless steel 316L (Stainless Steel) is a very durable material that theoretically can not be destroyed. It is hard (non-bendable and non-crackable), color stable, antiallergic (does not react with body fluids and therefore no metal components are not released into the skin and flesh) and has anticorrosive surface (the surface is resistant to oxidation and corrosion. Moreover, it is also resistant to fresh and salt water)
Glass: Mineral
Currently the most widespread type of watch glass. It is very hard and has a high silicon content making it highly resistant to scratches and impacts. However, it does not mean that it is completely scratch resistant
| | | |
| --- | --- | --- |
| Country / Continent | Amount | Shipping costs |
| SPAIN AND PORTUGAL ( PENÍNSULA ) | Up to 30 Euros | 6 Euros (Vat Included) |
| SPAIN AND PORTUGAL ( PENÍNSULA ) | Above to 30 Euros | Free |
| CANARY ISLANDS CEUTA MELILLA AND BALEARES | Up to 100 Euros | 6 Euros (Vat Included) |
| CANARY ISLANDS CEUTA MELILLA AND BALEARES | Above to 100 Euros | Free |
| EUROPE ( EUROPEAN UNION ) | Up to 100 Euros | 15 Euros (Vat Included) |
| EUROPE ( EUROPEAN UNION ) | From 101 Euros up to 250 Euros | 10 Euros (Vat Included) |
| EUROPE ( EUROPEAN UNION ) | Above to 250 Euros | 6 Euros (Vat Included) |
| EUROPE ( NOT EUROPEAN UNION ) | Up to 100 Euros | 15 Euros (Vat not Included) |
| EUROPE ( NOT EUROPEAN UNION ) | From 101 Euros up to 250 Euros | 10 Euros (Vat not Included) |
| EUROPE ( NOT EUROPEAN UNION ) | Above to 250 Euros | 6 Euros (Vat not Included) |
| AMÉRICA AFRICA ASIA OCEANÍA MADEIRA AND AZORES | Any Amount | 23 Euros (Vat not Included) |
You can see more details by clicking on the following link:
10 other products in the same category: